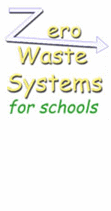 The Goals:
Every school and other school district entities in Kentucky generages waste of various types: paper and plastics from classrooms and the library, etc. From the cafeteria, other types can be added to the list such as glass, tin, and even food. The "zero waste" system has two goals:

1. To recycle all waste generated at the school level, thus turning waste into a resource while protecting the environment.
2. To teach children to protect the environment wherever they are by participating in a "real life" recycling program.

Procedures for recycling will be established at each school. Recycling containers will be placed in each classroom and other locations such as the library/media center, offices, and cafeteria. Children will be responsible forsorting and placing the classroom waste in recycling bins.

Almost all recycling tasks will be completed by children as a part of their education experiences. The decline in waste bein disposed in landfills will decrease at a noticable rate, eventually to zero. Dumpsters will give way to recycling containers. Garbage pick-up will no longer be needed.

All recyclable waste will be collected and processed by The Bluegrass Regional Recycling Corporation (BRRC) and its affiliates. The BRRC will help setup and serve the recycling system. The pick-up and processing of the waste will be provided at no cost to the school district/school. Eventually, the cost of disposing of school waste will go to zero. Children will be able to participate directly in the recycling program. They will monitor the decline of waste to be disposed of in landfills and will learn that waste can become a resource.